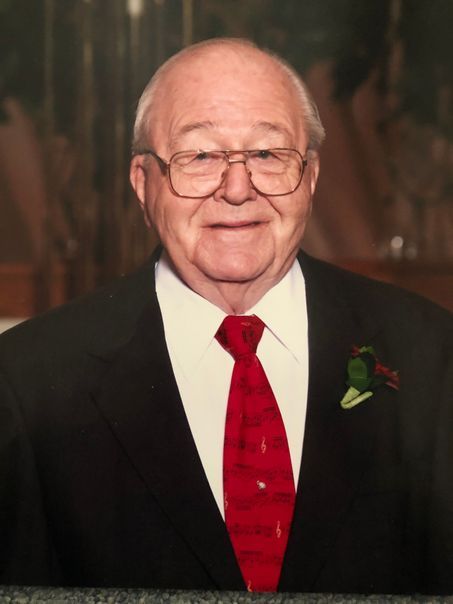 Delmar Arthur Lienemann was born May 17, 1920 on his parent's farm in Papillion, Nebraska.  Del attended Bell school, a one room school house, Papillion High School, then pursued his college education at the University of Nebraska Lincoln where he received in 1941 his bachelor's degree in Business Administration.  He began his career as an accountant and eventually opened his own office in 1945.  He became a Certified Public Accountant in 1949.  He remained a licensed CPA for 66 years until his retirement from the profession in July, 2015.
Del met Charlotte while attending the University and they married in 1944.  Their union was blessed with seven children:  Del Jr., David, Diane, Doug, Dorothy, Dan and Denise.  Del's life was one of faith, service to his family, and to others in the community.  Del and Charlotte were adamant that it was a responsibility and a privilege to give back to your community.  To that end they were tireless volunteers in the community and ultimately bequeathed the vast majority of their accumulated wealth over their long and productive lives to the Lienemann Charitable Foundation.
Del was active as a volunteer in many community organizations.  Christ Lutheran Church, Lincoln Junior Chamber of Commerce, American Red Cross, Lincoln Symphony Orchestra, Trustee of Lincoln General Hospital, Lincoln Sertoma Club, Beta Sigma Psi Fraternity, University of Nebraska, University of Nebraska Foundation to name a few.  Del was also active in politics and ran for office to the Lincoln City Council, Lancaster County Commissioner (served as commissioner from 1954 – 1958), Lt. Governor of Nebraska, and Governor of Nebraska.
Del's career included accounting, managing a farm (owned a farm in Gretna from 1942 until his death), land developer in Estes Park Colorado, and rental and investment companies in Lincoln.  He was responsible for setting up the Ethel S. Abbott, Sterns, Erck and Lienemann Charitable Foundations.  He served as President of these Foundations along with several family businesses that he established until his retirement from these organizations in 2015.  
Del and Charlotte, served their community, raised a large family, demonstrated a strong faith in God, operated numerous businesses and Foundations and found time to travel to 55 countries.  Del passed away on September 17, 2018 at the age of 98.